In December of 2021, just before Christmas, The Last of Us Co-Creator and Naughty Dog Co-President Neil Druckmann visited Universal Orlando Resort with his family. A big theme park fan, Druckman then tweeted out how much he'd love to see The Last of Us made into a haunted house at Universal's annual Halloween Horror Nights.
Druckman admits now that he wondered if maybe, down the line, that tweet could could lead to an actual conversation with someone involved in Horror Nights, but what he didn't realize was that Universal Orlando Resort's Senior Director of Entertainment Creative Development, Mike Aiello, was going to be incredibly receptive right away, nearly immediately DM-ing Druckman and saying he would love to discuss making this idea a reality. The two jumped on a Zoom call just a day or so later, excited by the possibilities. But looking back a couple of years later, Druckman says that despite the quick connection between the two men, there still were some notable obstacles. "We're a part of Sony, a giant corporation. Universal's a giant corporation. You don't quite know if the deal terms will all work out."
Fortunately, both Sony and Universal were very receptive to the idea as well and now, sitting talking to press within the actual Universal Studios Florida location of The Last of Us, Druckman and Aiello were both ecstatic to have it existing as a haunted house at Horror Nights at both Universal Orlando and Universal Studios Hollywood this year. Said Aiello, "I remember playing the game 10 years ago and thinking this would be an amazing haunted house. And here we are 10 years later and we're doing it."
LASTING EMOTIONS
Despite the recent debut of The Last of Us TV show, the Halloween Horror Nights house is specifically based off of the game and its imagery, including its version of the main characters, Joel and Ellie. Halloween Horror Nights houses need to deliver certain visceral, scary thrills, but The Last of Us – as scary as it can be to play – also is famous for its emotion and pathos.
Said Aiello, "I think that's what makes the game and, in turn, this experience, so layered. And that is a challenge. How do you pay off all of those layers? And I think it's about recognizing those things, but also being very specific with what you want the experience [to be]. And again, in adapting there is that filter you have to put on the experience."
No matter what, the house has to deliver the expected scares to the public and Aiello remarked, "There is an intensity to this that we want to maintain because it is a haunted house experience. However, the instances where you are engaging Joel and Ellie kind of bring you back to that core value of what the story is about."
The Last of Us's central duo appear multiple times in the house, depicted in a variety of ways – sometimes by scareactors, sometimes as projections seen in silhouettes, and sometimes as full sized figures, depending on the scenario. Druckman said he was fascinated to get an education on how Horror Nights houses are put together, while also learning how to adapt and work within their constraints.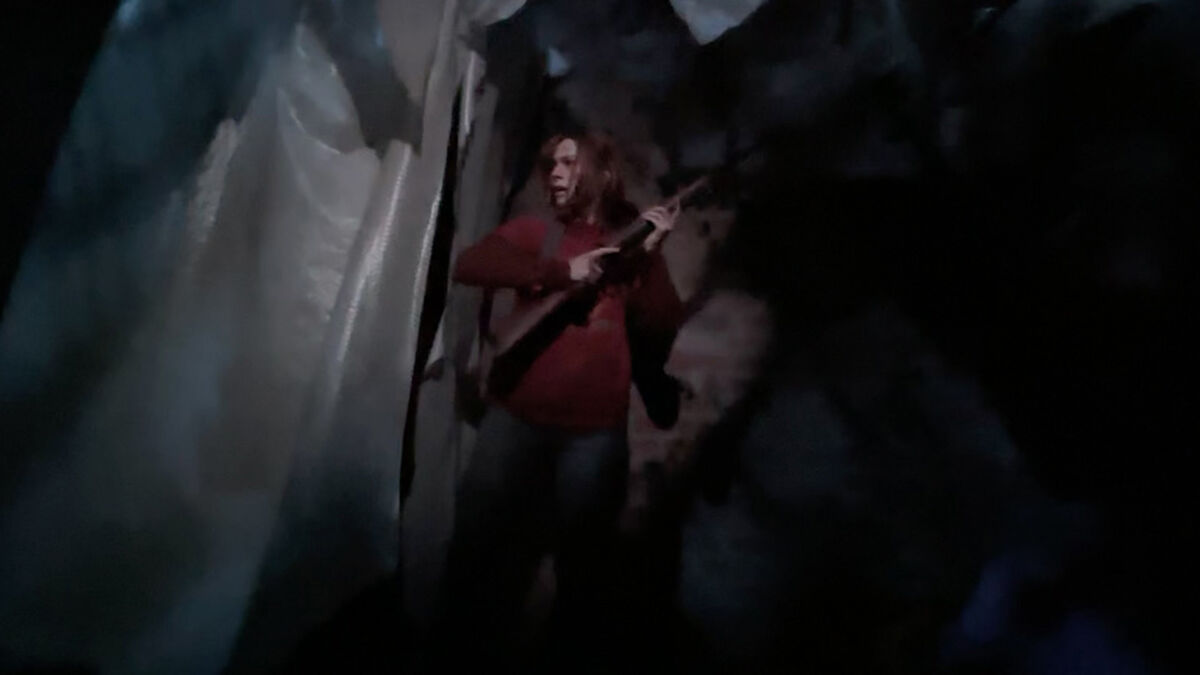 As Druckman explained, "The interesting constraint was we can't drop F-bombs. I'm like, "Well, how do we do Ellie's dialogue?" in reference to his co-lead's famously foulmouthed manner of speaking. Druckman said he enjoyed figuring out clever ways to work around that sort of obstacle, noting a moment where a scareactor playing Ellie is protecting you with a rifle and screams "Die, mother…" and pulls her trigger as we hear a loud BLAM sound effect covering the second part of what she's yelling.
As Druckman put it "You know exactly what she's saying. And it's kind of like gallows humor. I think fans will get a kick out of that. It's like, 'Oh, there's the Ellie that we know, voiced by Ashley Johnson.'"
THE SOUNDS OF US
Yes, as Druckman referenced, The Last of Us's original voice actors reprise their roles for the Horror Nights house and Druckman said that was something he and Aiello both immediately agreed was a must, recalling them saying, "'It's got to be Troy Baker and Ashley Johnson. We can't have sound-alikes. it's got to be them.' We wrote brand new lines that they came in and recorded just for this experience."
Aiello said having Baker and Johnson back was one of many parts of The Last of Us house where they leaned on the original sounds fans knew from the game, remarking, "The audio design is so important to the experience. For me, that's one of my favorite parts about the experience. Because again, as a gamer as well, that is so important to how you're playing the game. You're hearing Clickers in the distance, you're getting a sense of environment just based on the audio. So to have the actual sound effects from the game,to be able to employ in this experience only further furthers the authentication. Beyond all the scenic and the costumes, that audio experience is so so so important."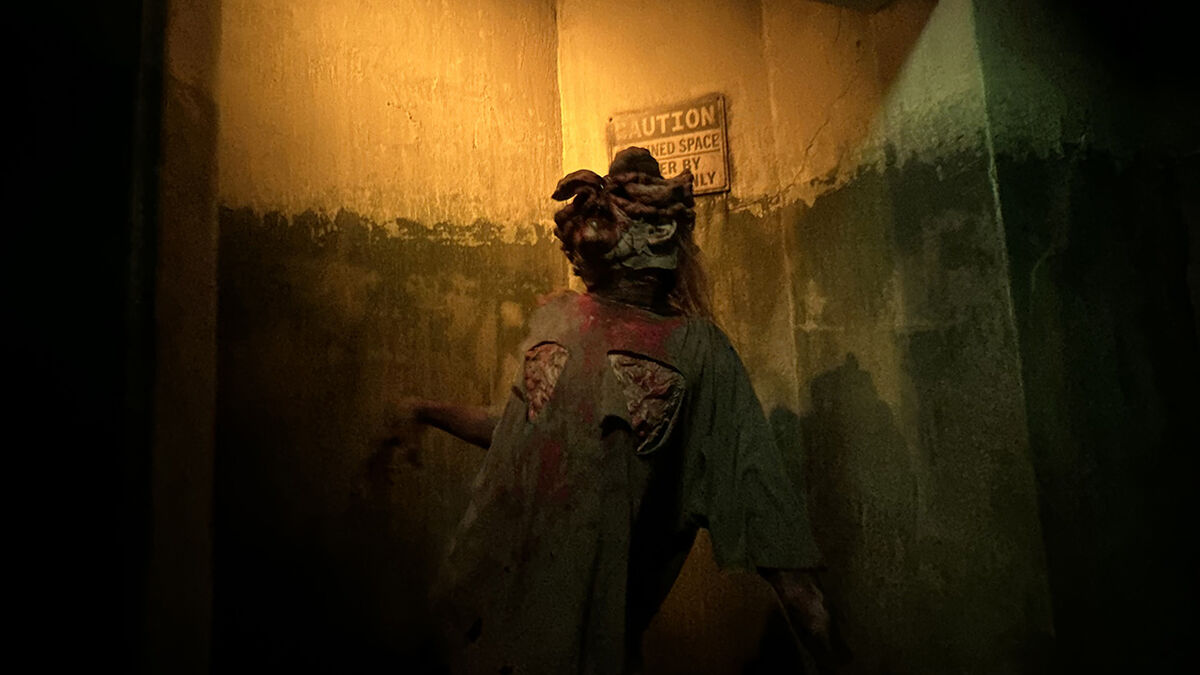 Aiello noted those sounds and voices can also really contribute to reflecting The Last of Us's emotional core. This included adding an extra level of tragedy to the infected and how self-aware, at least in the early stages, they can be, with Aiello pointing out "There's a moment, a projection gag, where there's a Runner really going to town on a victim. And the audio for that is the notion of they're doing this horrific act – and they know it. So it's this cross between the savagery of that action and the cries of sadness that they're doing it, which is something we implanted into the audio design to kind of show both sides of the turmoil that some of these victims are going through, knowing that they're out of control now at this point."
Aiello noted that when they are adapting familiar IP, they'll sometimes do what they call "the jukebox approach," pulling in familiar sequences and locations from across the entire story. However, for The Last of Us, they instead chose to keep the house's storyline set entirely within Pittsburgh and that portion of the game, allowing them to show more of a straight throughline for Joel and Ellie.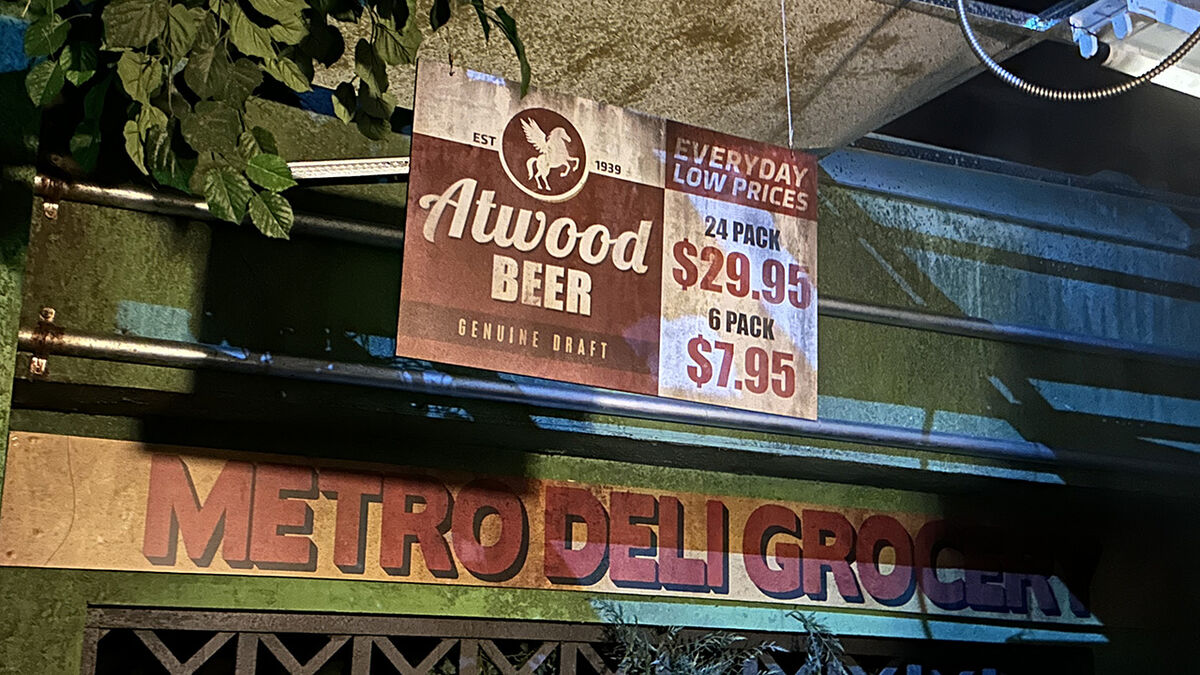 As Druckman explained, "One of the reasons we picked Pittsburgh specifically is because you get to kind of run the gamut of all the things you fight in the game, from Hunters — from the human threat — all the way to Runners and to Clickers and finally up to Bloaters and to make sure each one of those is authentic, lifting audio straight from the game. The team here, the actors that are doing the infected, they had an infected boot camp where they were studying the game, and learning to move like what our animators have created in the game."
Aiello had high praise for all those who contributed to The Last of Us house, including the costume designers and the cast portraying not just Joel and Ellie but all those attacking them, in various stages of infection.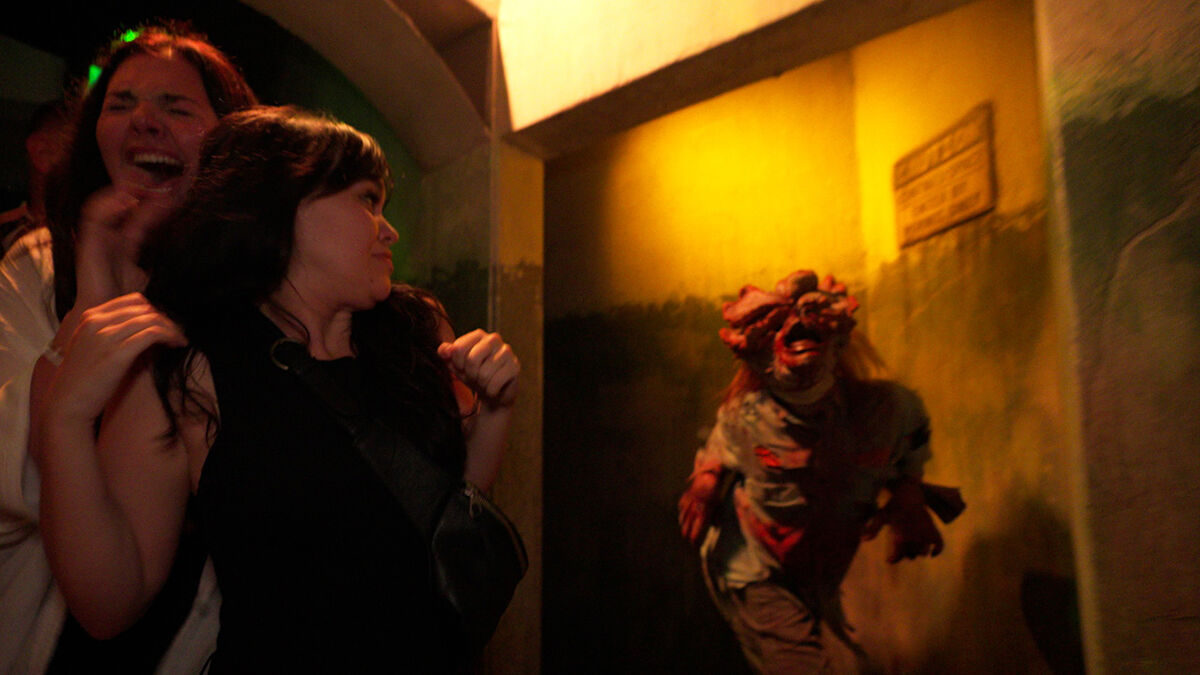 Said Aiello, "I think the costumes are really challenging. These are amazingly detailed characters throughout. So being able to have a Bloater… It's easy to say we're going to put a Bloater in a haunted attraction experience. The challenge is how do we have it look correct, move correctly? But also be comfortable for the performer over the period of time that they're in it. This is different than being on a TV show or film where you can yell cut and you're getting out of that costume. These performers, they are amazing, they are the blood of this attraction, and to make them comfortable and be able to move and be those characters is a massive challenge, but we figured it out."
SEE IT WHILE YOU CAN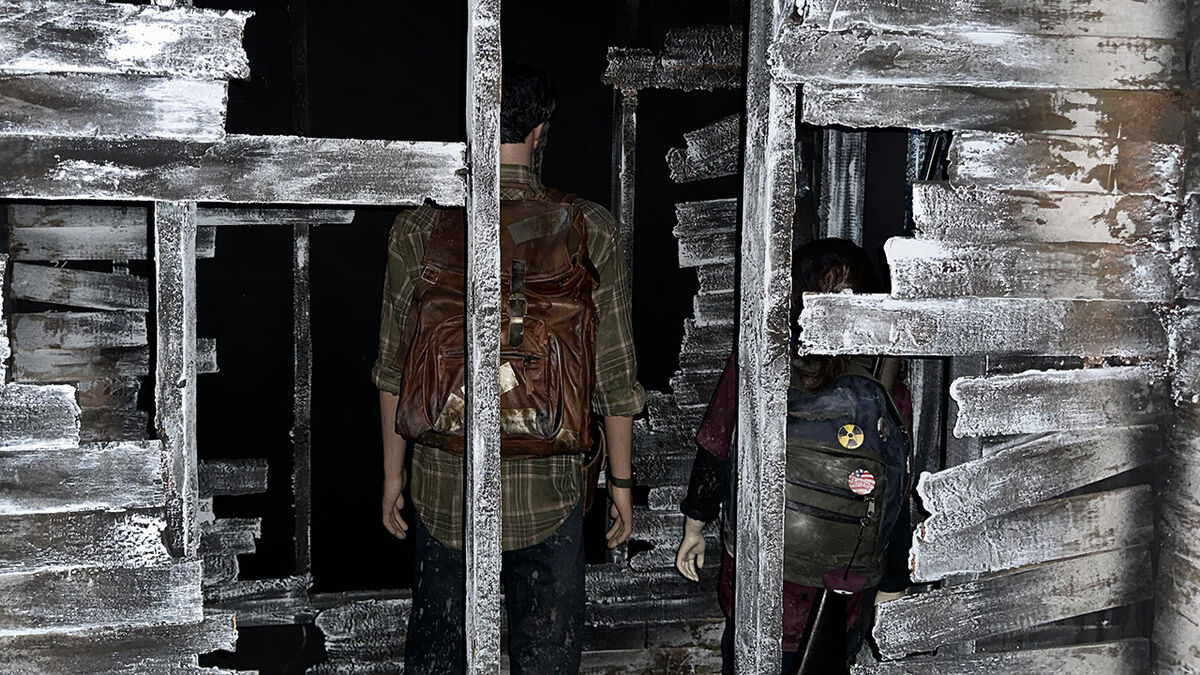 The Last of Us is making its debut at Halloween Horror Nights the same year the acclaimed hit HBO series based on the game has kicked off, so it feels especially notable the HHN house is modeled after the game, not the show. It's huge testament to the popularity of The Last of Us, given only a couple of other video games – among them Silent Hill and Resident Evil – have been direct inspirations for HHN houses.
As for what it feels like to see something he created become so beloved and now brought to life in this way, Druckman remarked, "It still blows my mind how big the game has become and how the people that love it really love it… It has afforded us like to do something as cool as this. This dream of 'I want to be in the game.' And again, some people could argue, well, you're already in the game. You're playing Joel, and you turn the camera on and you can choose where you want to go. Yes, that's true. But you're seeing it on this two dimensional screen on your wall. What if we break those borders and it surrounds you 360 degrees and you can feel it, you can touch it, you can smell it? It just hits you a little bit differently."
Druckman added, of Halloween Horror Nights, "The other thing I've always loved about these experiences is like they're extremely high production values and they're here for like two months and change and then they're gone." Druckman said he appreciated the specialness of the brief time the HHN houses exist and how those who visited them can then discuss what it was like with others. "I still have that with certain houses I've been to – like the Ghostbusters house comes to mind – where I talk to people about that. "It's so cool. I hope they do it again one day so I can take you to it!' I want them to have that experience here."
Of course, The Last of Us is now a huge franchise and there are plenty of ways they could do another house at HHN in the future, from adapting different sequences of the first game, to adapting the second game, to instead adapting the TV show. On that front, Aiello couldn't say anything would definitely happen, but did acknowledge, "The possibilities are endless."
Added Druckman, "I will say from my side of things is it's been such a pleasure working with Halloween Horror Nights team and Mike and John [Murdy] on the other coast and their team. Given the opportunity I would do it again in a heartbeat."
The Last of Us house is currently part of Halloween Horror Nights, running select nights at Universal Studios Florida through November 4, 2023 and select nights at Universal Studios Hollywood through October 31.
---
Are We Safe From the Real World Parasite that Inspired The Last Of Us?
The post The Last of Us at Halloween Horror Nights is All About the Game, Cast Included appeared first on Fandom.