Running 48 nights this year – a new record for the annual event – Halloween Horror Nights 32 kicked off this past weekend at Universal Studios Florida. The ever-popular Horror Nights once more combines popular pre-existing franchises like Chucky, The Last of Us, and Universal Monsters with original concepts created for Horror Nights itself.
This year, there's clearly a lot of buzz about the HHN debut of The Last of Us, and I'll have more on that house coming this week. But the return of the blockbuster Stranger Things, after a multi-year absence, is also causing a lot of fan excitement and, yes, cause for more of the patented Horror Nights long lines.
Read on for some impressions of some of HHN 32 standout entries, including Stranger Things, a new Exorcist house, and an original HHN character getting a ton of focus this time out.
EDDIE AND THE VECNAS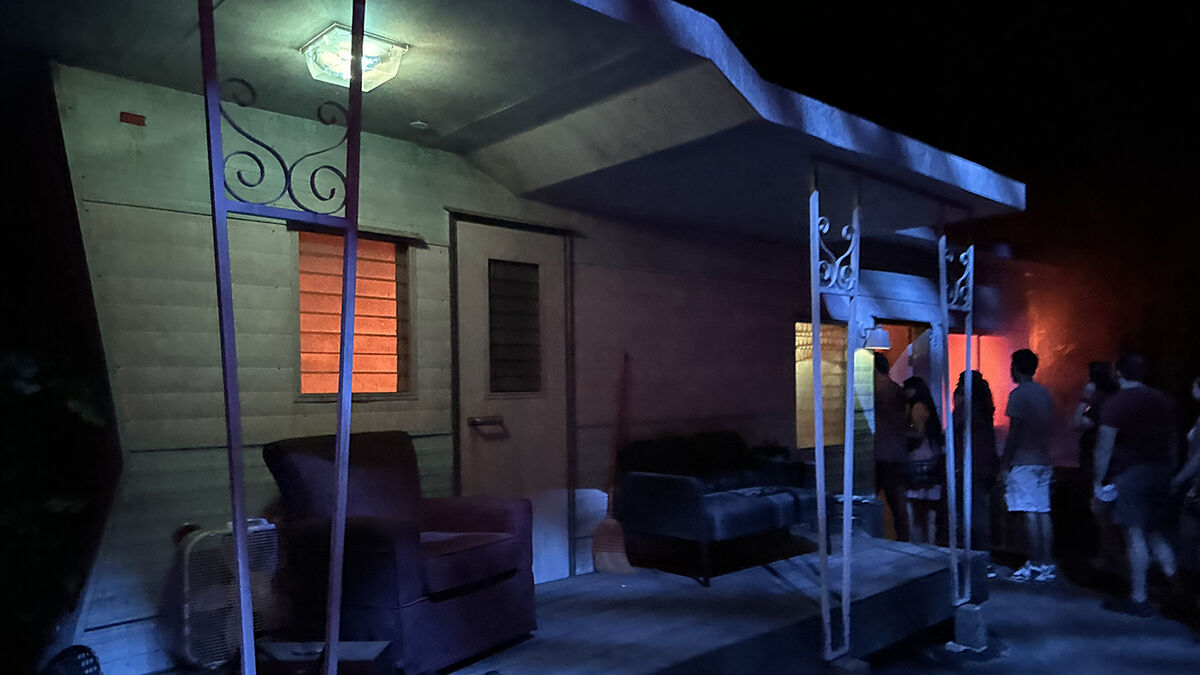 It's been four years, but Stranger Things has finally returned to Halloween Horror Nights with a new house, Stranger Things 4, based off of last year's season of the hit Netflix series. That season notably split up the characters geographically, with several in California and several in Russia, along with those who remained in Hawkins, Indiana.
The Orlando Stranger Things 4 HHN house streamlines things considerably, focusing a lot of attention on the story of that season's breakout character, the Hawkins-based Eddie Munson. It's through Eddie (and the trailer he lives in) that we enter the house and considerable time is spent with Eddie as we continue through, as he makes the most appearances throughout the house of any of the human characters. However, as Lora Sauls ( Universal Orlando Resort's Assistant Director of Creative Development and Show Direction for Art and Design, Entertainment) noted at HHN 32's media kick off event, the house also follows the vile villain Vecna and, most ominously, Vecna's curse, including him taking out poor Chrissy and how he affected and nearly killed Max.
Suffice to say, there is Vecna aplenty to be seen, which also allows for the house to include Eleven's origins and how they tie into those of Vecna. One notably fun part of the house has scareactors portraying Eleven and Henry Creel/"One" in the encounter that results in Henry being transformed into Vecna, with you walking right between the two in the midst of their showdown.
Because they're built in large soundstages, Horror Nights in Orlando has a lot of space they can work with inside their houses, including building more vertically when needed, a fact which is put to work in a cool and clever way for Stranger Things 4 when you walk through Eddie's Trailer again later in the house. This time, you're in the dark and distorted Upside Down version of the trailer, while you see the real world version above you, built as a second room on top of the one you're in.
Ultimately, I feel like the best Stranger Things house so far was the first one back at Halloween Horror Nights 28 in 2018, which was based on the show's first season. However, the Stranger Things 4 house is a very strong one in its own right with Vecna making for a great HHN villain. Sauls noted when the HHN team saw Season 4, they instantly felt it would make for a good house, and they were right, as it is a notable improvement over HHN 29's house based off Stranger Things 2 and 3, which wasn't as impactful.
MAKING A BELIEVER OUT OF GUESTS
With 10 choices and so many differing opinions, it's hard to find a true consensus for the best house each year, but I will say that everyone I spoke to had good things to say about my personal favorite at HHN 32, The Exorcist: Believer. Horror Nights has done houses based off the original Exorcist a couple of times now, but this time turns their attention to the brand new movie – while also continuing a long relationship with Blumhouse Productions.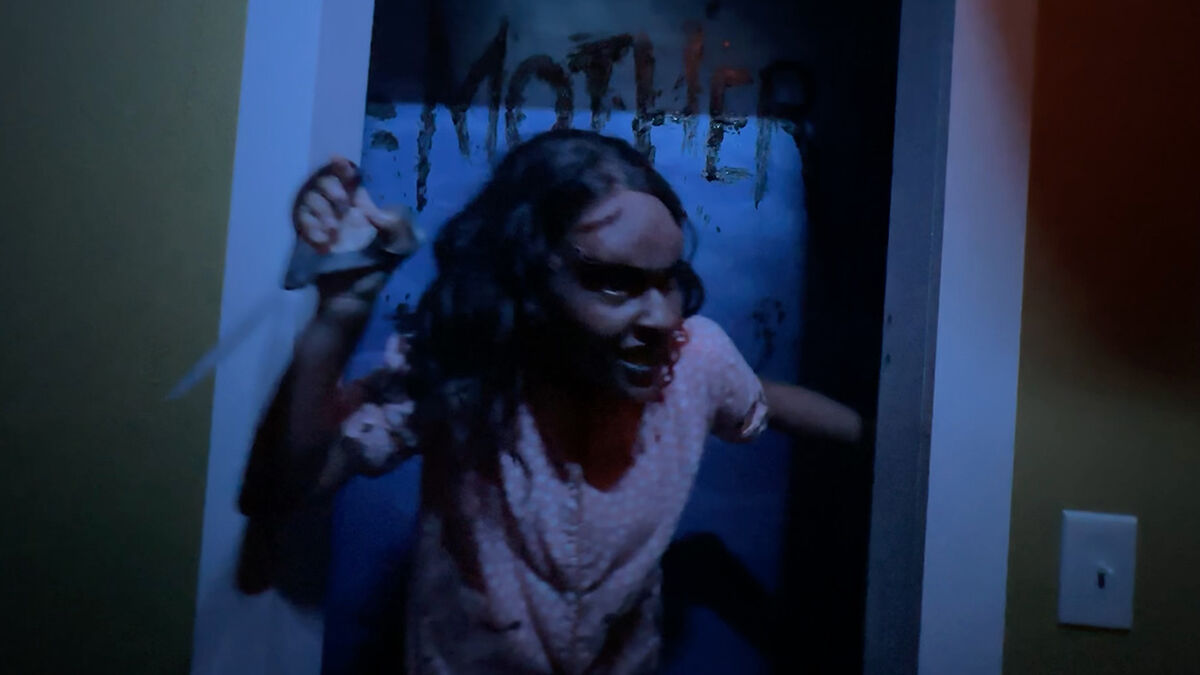 However, The Exorcist: Believer stands out as one of the rare times a house is happening for a film that has not opened yet – though given it does open October 6, there will at least be a few weeks where those going to HHN could have seen it first. Still, for many, they'll be going into the house with only the trailers to go by, if they've seen those. That being the case, Sauls said the HHN team approached the house as an "amazing living trailer" for the film and is it highly effective in that regard.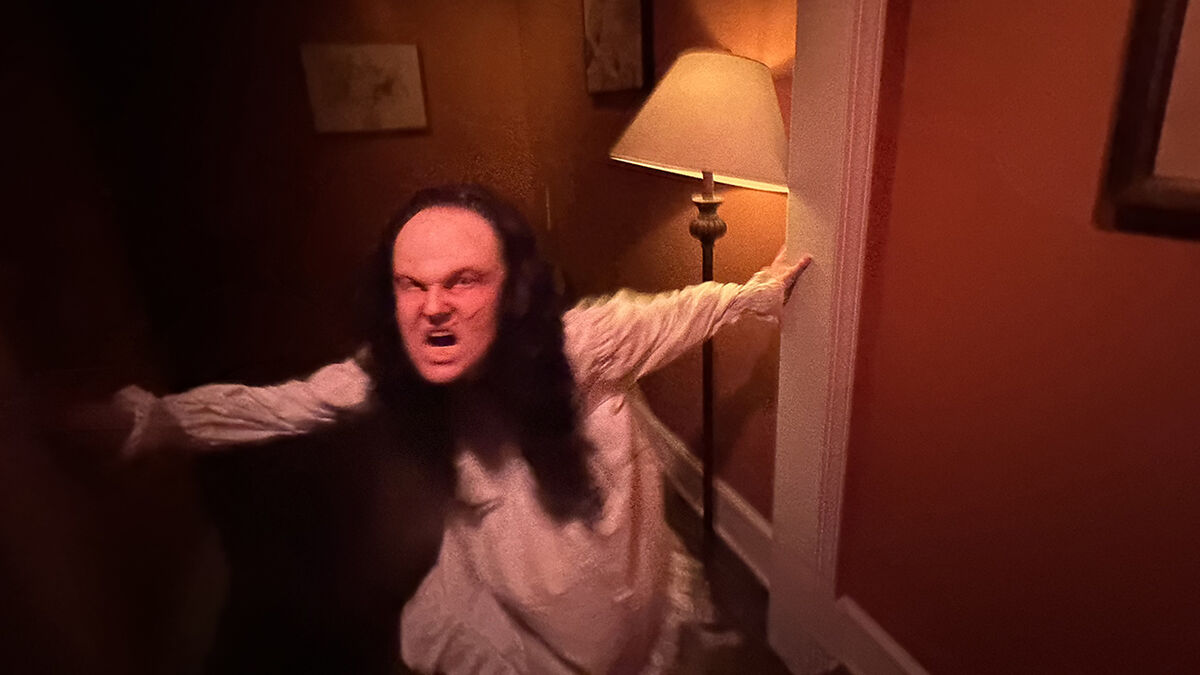 Look, creepy little girls are a staple of horror for a reason and it works like gangbusters in Believer, with the two possessed girls at the center of the story — Katherine and Angela – appearing in all sorts of unsettling ways, including some very clever scares involving everything from one of them popping up behind a door in a way you might not expect (hint: possessed people aren't limited to the ground) to at one point doing a simultaneous scare, where scareactors playing each girl leap out at you on each side of a corridor, which – with my apologies to the scareactor – caused me to knock into one girl as I recoiled from the other.
All of which to say, this is a notably creepy and scary house, and I suspect people who haven't seen any Exorcist movie, even the classic original, will find aspects of it unsettling and effective. Even with many other strong candidates, it was the one I was most eager to revisit after my first time through all the houses. And yes, I'm now more hyped for the movie itself, so well done, HHN team!
IT'S ODDFELLOW'S WORLD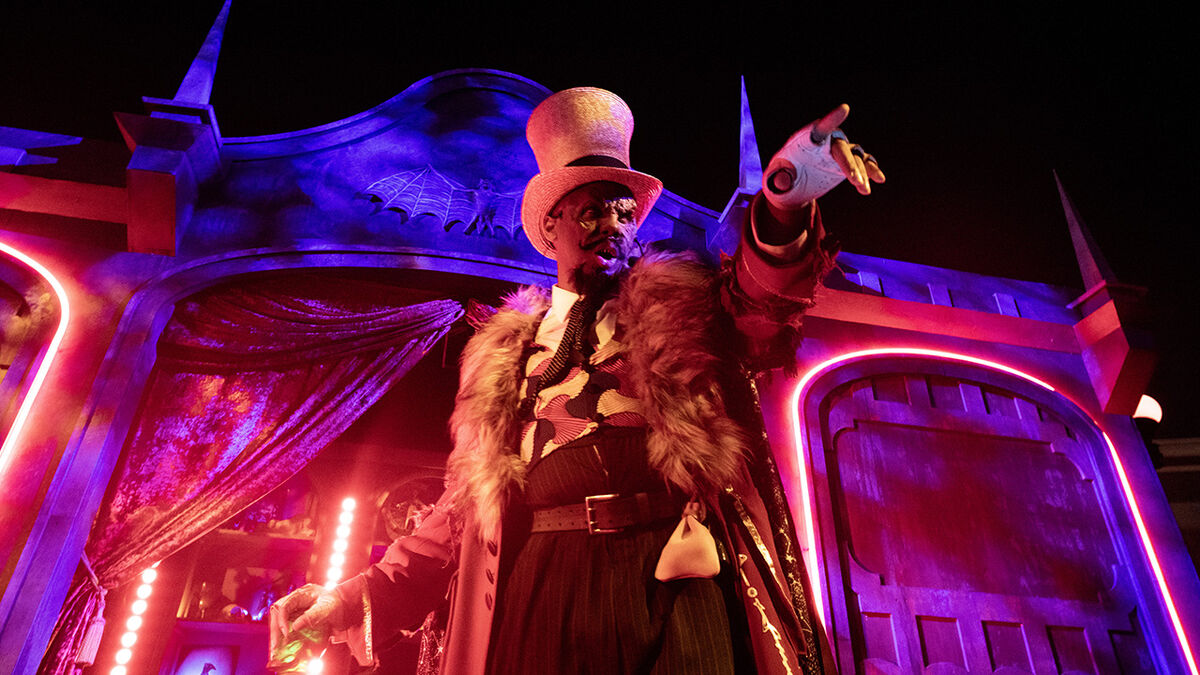 Halloween Horror Nights operates on multiple levels depending on how closely you pay attention and how many times you return to the event through the years. You can enjoy it all regardless of your knowledge level, but hardcore, longtime fans know there is a tremendous amount of lore and mythology that has been built up around the ever-impressive original concept houses and scarezones HHN offers each year, alongside the adaptations of familiar IP.
Once more, a rather terrific group of original concept houses are among the offerings at HHN 32, with several highlights, from the comedically-tinged terror of a rampaging Yeti and his family in YETI: Campground Kills, to the story of a jazz musician taking a devil's deal in The Darkest Deal, to the freaky, colonial-era cult killings in Blood Moon: Dark Offerings. There's also a house, Dueling Dragons: Choose Thy Fate, that blends fantasy elements with horror in a very bold and impressive way – the massive castle sets built for it are great – while having its roots in a defunct Universal Orlando attraction of the same name.
But the house that is most important to HHN's own ongoing specific storylines is Dr. Oddfellow's Twisted Origins. As Sauls stressed, that's originS, pluralized, because two different key characters in HHN lore were both getting origin stories here.
There is no more beloved or frequently used HHN-originated character than Jack the Clown. First introduced for 2000's Halloween Horror Nights X, Jack has since returned numerous times and been the focal point of many events, building a devoted fanbase along the way. But even many of his fans won't recall the name Dr. Oddfellow at a glance, because while that character debuted alongside Jack in 2000, he'd never directly come back… until 2023, where he's making up for lost time.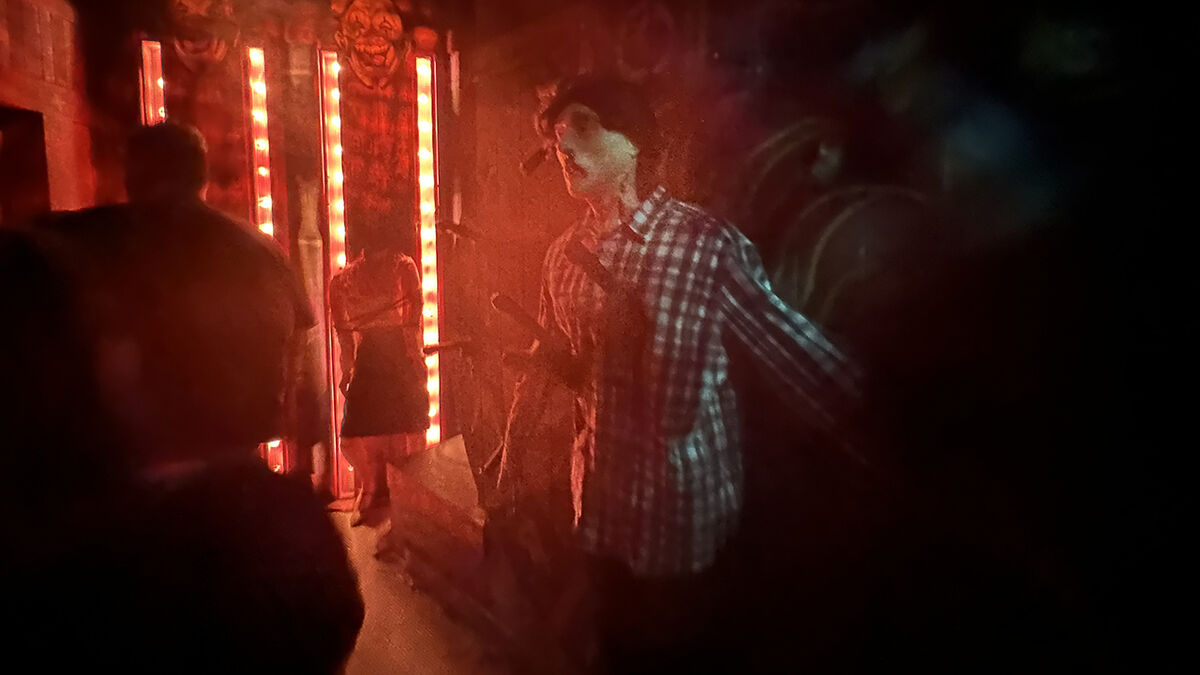 Dr. Oddfellow was introduced as a demented funhouse operator and an enemy of Jack the Clown in the 2000 house The Fearhouse, and in some ways, Twisted Origins is an updated version of that house, but with a better focus on the significance of these events and with Oddfellow himself getting a big upgrade both visually and in terms of his own abilities and backstory. This time, we see Oddfellow actually killing Jack Schmidt, in the process beginning his journey towards becoming Jack the Clown, who is an immortal just like Oddfellow himself is.
Twisted Origins is a really effective, visually striking house, with its 1930s dustbowl-era circus looking properly menacing and ragged and escalating into increasingly nasty and murderous events happening around you. It would be a cool house and story-behind-the-story addition to the HHN canon regardless, but the HHN team decided to go big across the board this year when it came to elevating Oddfellow from obscurity to a central part of their ever-expanding story.
That being the case, Oddfellow is also connected to every single one of the five outdoor scarezones located throughout HHN 32. And again, many guests will travel through unaware of this, but for those who follow these things, it gives an extra level of meaning. So the 1920s-set Jungle of Doom: Expedition Horror is about Oddfellow's journey even further back than Twisted Origins, as he experiments on animals and searches for ways to expand his powers and find immortality. The 1940s-set Shipyard 32: Horrors Unhinged takes place after Twisted Origins, as some of Oddfellow's collection of creatures escapes. Sauls also noted you should be on the lookout for some Easter eggs in this area, connecting Oddfellow to even more of Horror Nights' previously introduced characters, such as their decidedly dangerous take on the Tooth Fairy.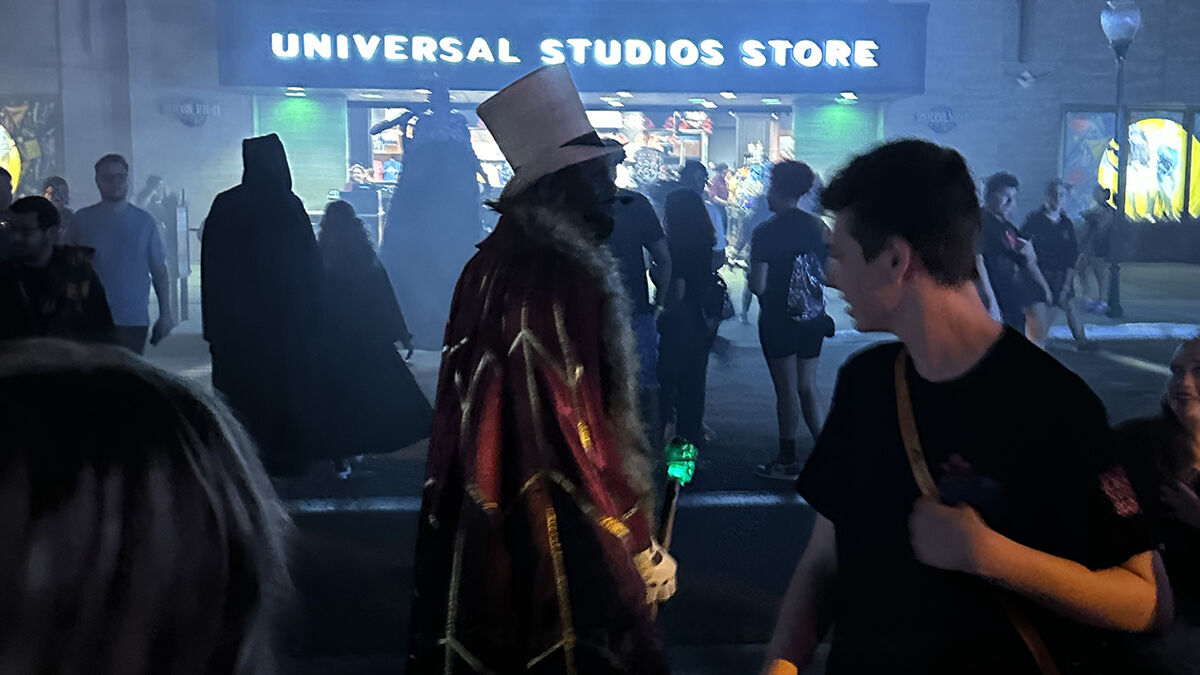 Guests have a chance to see Oddfellow almost immediately when they enter the park for HHN this year at the small scarezone Dr. Oddfellow's Collection of Horror, which finds the not-so-good Doctor front and center, welcoming guests a la the classic carnival barker that he once was, albeit with some very menacing messaging. That scarezone is adjacent to the much larger and ominous Dark Zodiac, which involves transformed, macabre versions of the Zodiac symbols, which are the handiwork of – you guessed it – Dr. Oddfellow.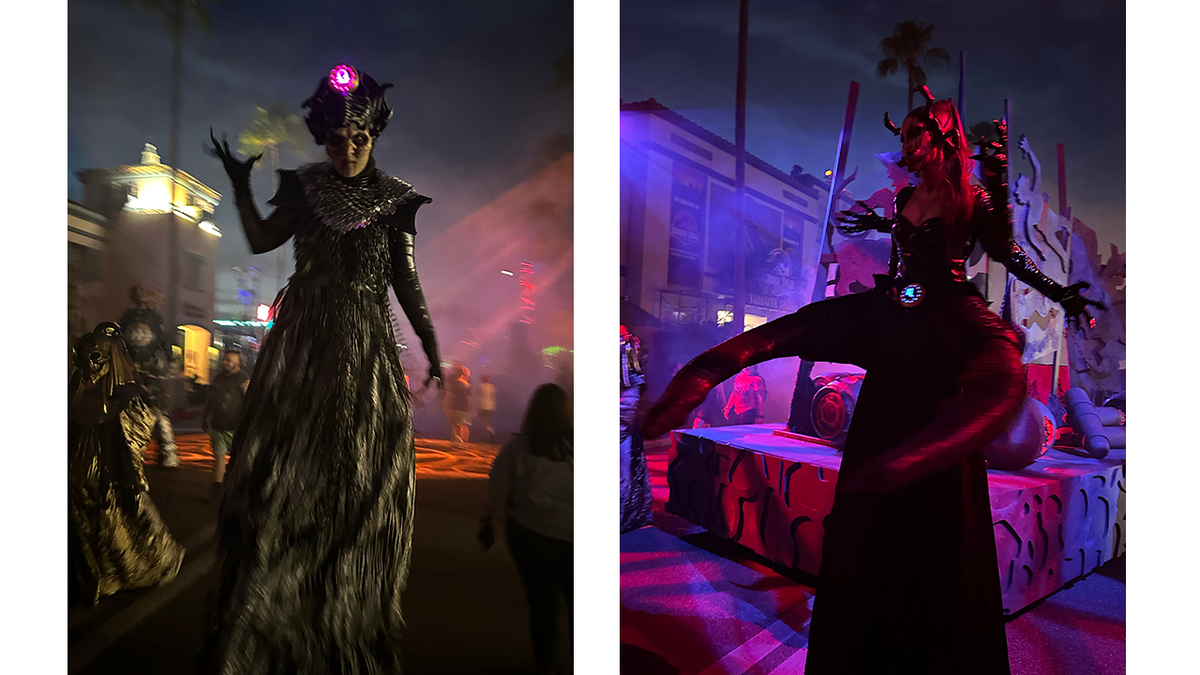 Even the scarezone that feels the most independent, Vamp '69: Summer of Blood, has an Oddfellow touch. A follow-up to the Vamp '85: New Year's Eve scarezone from 2018 and Vamp '55 from 2016, 'Vamp 69 is once more an incredibly fun, jam-packed experience which really leans into its period setting, with classic 1960s rock blasting as vampires have taken over a musical festival, leaving carnage – and a lot of dead or fleeing flower children – in their wake. But even here, we're told to look for Oddfellow, though perhaps in a different guise than we're used to, using some subterfuge to fit in with the times (and the vampires).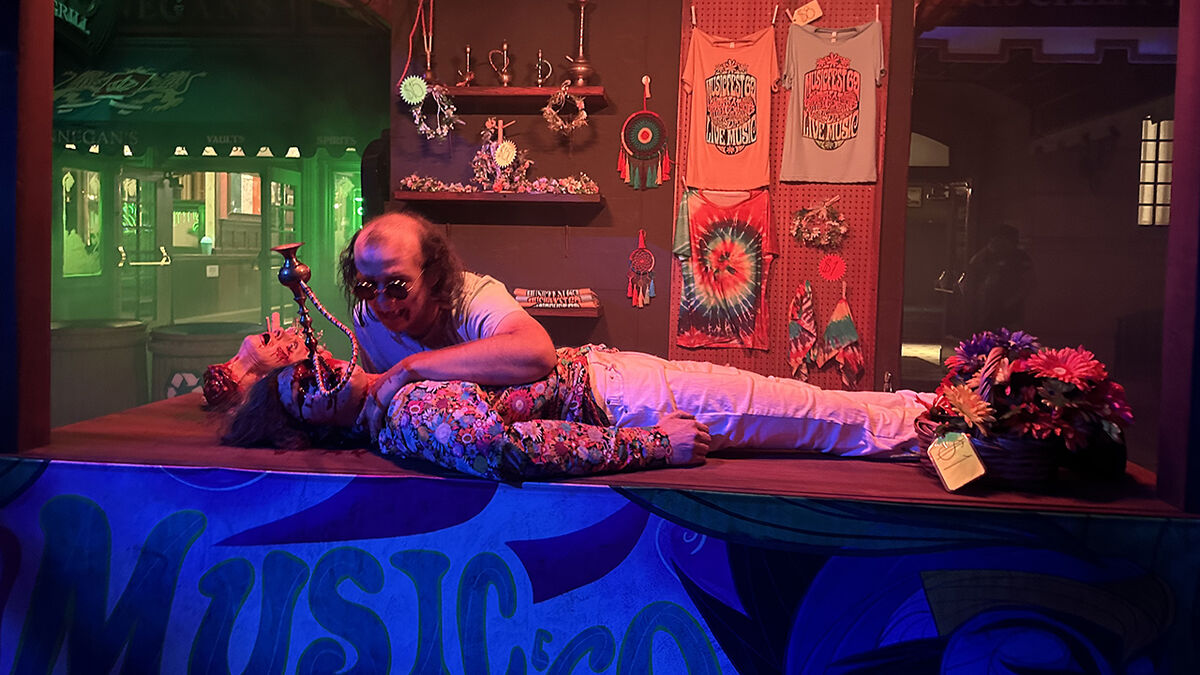 With its abundance of terrific scareactors and the really fun vibe of hippies-meets-vampires, Vamp '69 is my favorite of the scarezones this year, and yes, it is certainly the least Oddfellow-dependent of the scarezones this year. But despite a couple of lesser ones (Shipyard 33 and Jungle of Doom feel more bare in comparison to the others), the inclusion of Dr. Oddfellow into the entire Halloween Horror Nights event this year is very well done and an excellent bit of connective tissue. It also sets the stage for a Jack and Oddfellow rematch the HHN crew could certainly capitalize on in years to come. And who wouldn't want to see that?
Halloween Horror Nights 32 is currently running on select nights at Universal Studios Florida through November 4.
To learn more about the Chucky house at the Hollywood version of HHN this year, click on the link below.
---
Chucky is Ready to Kill YOU at His New Universal Halloween Horror Nights House
The post Eddie Munson and Vecna Dominate Halloween Horror Nights' Stranger Things 4 House appeared first on Fandom.