A reminder of just how impressive animation can be, and how limitless its boundaries are, Disney's terrific new film Strange World makes a big impression. The newest Walt Disney Animation Studios movie comes from director Don Hall (Big Hero 6, Raya and the Last Dragon) and writer Qui Nguyen (Raya and the Last Dragon), with Nguyen also serving as Co-Director.
Strange World focuses on Searcher Clade (voiced by Jake Gyllenhaal), a farmer who finds himself very out of his element when he's taken on an important mission to an unknown and fantastic world in order to help his people, joined by his teenage son, Ethan (Jaboukie Young-White), and wife, Meridian (Gabrielle Union) – which leads to an unexpected reunion with Searcher's long lost father, Jaeger (Dennis Quaid), a bigger than life, fearless explorer, who vanished long ago.
Inspired by classic pulp stories and more, Strange World very much lives up to its title, taking its viewers into some amazing places, highlighted by extremely creative and unusual visuals, as the world the Clades travel into doesn't operate by expected rules at all. Hall and Nguyen spoke to Fandom about bringing this new world to life and the decision to make even the starting point also a world unlike our own.
WHY NOT TWO WORLDS?
From the early teasers, it would be easy to assume that Strange World is about people from Earth (perhaps from decades ago) traveling to a different world, but that's not the case. The set up for the film is the land of Avalonia, a society essentially trapped by massive surrounding mountains, who lacked electricity until a discovery by Searcher in the relatively recent past. Laughing about the film's ambitious approach, Don Hall said, "I suppose conventional wisdom would say, 'Let's just design one fantasy world, not two,' but I guess we threw that out."
As far as not beginning in more familiar terrain, Hall explained, "What led to that was wanting this movie to be an allegory. And it felt like in order for us to be a true allegory, an environmental allegory, we needed to create our own fictional world. And that was Avalonia, this kind of amazing, retro, future city surrounded by mountains on all sides."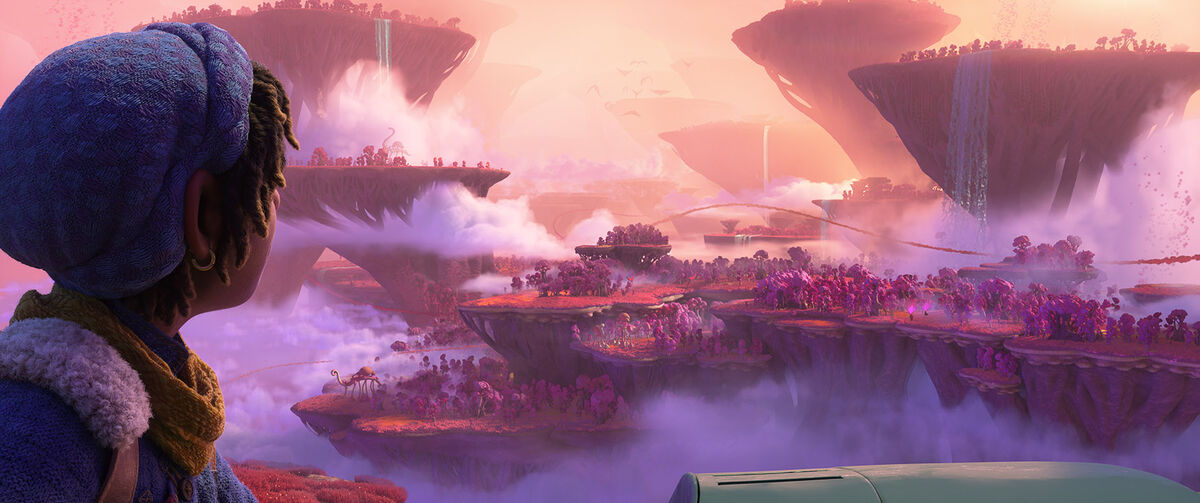 Qui Nguyen said that in terms of guidance, Hall had told the Strange World team, "the kind of adventure stories that he really enjoyed were those specific stories where explorers found an undiscovered place, whether it was Journey to the Center of the Earth or Lost World."
When it came to the designs of Avalonia, and what the technology and vehicles they'd develop in the wake of Searcher's discovery would look like, Hall noted, "A lot of the early inspiration was a lot of early adventure novels – Jules Verne and Sir Arthur Conan Doyle, sort of the birth of the adventure novel in the late 1800s, early 1900s. I love looking at images from that time of what they thought the future was going to be. It always involves these really interesting shapes for buildings and airships flying around everywhere. I wanted to let Avalonia feel like the culmination of that aspiration that those artists had and writers had in the early 1900s."
LIVE UP TO THE STRANGE
Nguyen said the intent was always to make good by their title and then some, and that meant not playing safe or familiar in terms of creating the specifics of the world the Clades travel into. "When it came to this world, the one mandate [Hall] gave us was 'Make it weird" and that was what was super fun. We got to work with a team to make the weirdest, strangest place we possibly can imagine." He jokingly added, "Don kind of sat around with a glass of whiskey going, 'Stranger, stranger! Make it strange!'"
Recalled Hall, of establishing what he was looking for, "At the beginning, you wanted to get everybody accustomed to thinking really far outside the box. At those first few meetings, there were kind of conservative swings at some of these creatures, and I wanted to sort of establish the rules."
Disney animators often use real life reference points, but Hall said here, he wanted them to spring off that to a much more dramatic degree, noting of those very early designs, "Oftentimes, what I saw happening would be leaning too heavily on a real thing. It's like, 'That's great that from your research that you found this amazing fungus or whatever. But let's take what you love about that and abstract it more, so that we don't even recognize it as something terrestrial.' It was that first month or two of establishing that it's okay to take some really big swings and that was what we wanted and needed for this world to be original."
FACES OFF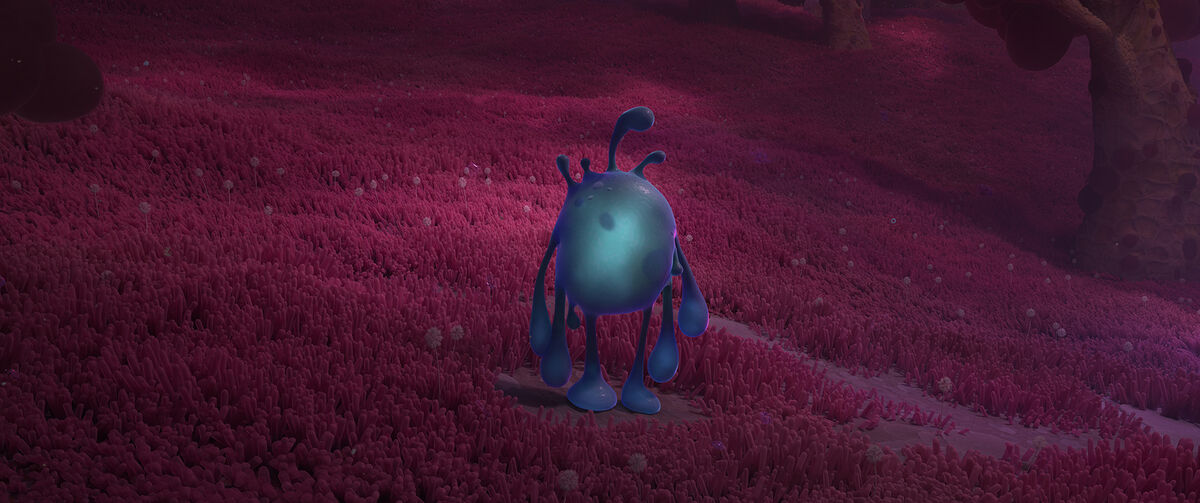 There are a ton of creatures to be found in Strange World, but one thing that sticks out about them is that they all lack any type of recognizable features (and in many cases, even a head). The most notable of these creatures is Splat, who can be described as a translucent, blue blob, who steals the scene several times throughout the film.
Hall said, regarding the overall approach to the creatures, "It kind of started with Splat, to be honest, and wanting to sort of challenge our animators, because I love nonverbal characters." Hall said he thought back to a previous film he'd directed, Big Hero 6, noting, "Baymax, even though he did have a voice, he had very limited expressions, and I thought they did a wonderful job with that character."
With Strange World, "I wanted to challenge them even further with a character with no face and no recognizable voice. Once we had Splat, we kind of built the world around [that]. When you look at Splat, he doesn't have features, and the rest of the monsters and creatures don't have features, and I think it allowed us to kind of view them as more of an ecosystem and then not expecting them to have sort of an overt kind of comedic or other personality."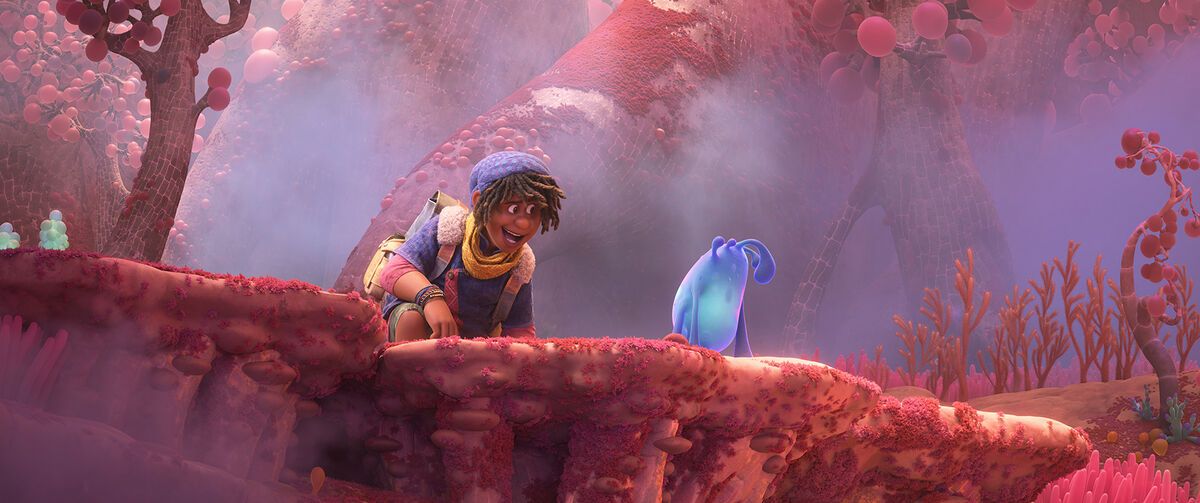 Nguyen did note that on the script-side, even as they knew Splat would not be heard speaking any kind of dialogue on screen, "The big cheat, obviously, was I would just write in parenthetical, 'This is what Splat is saying.' I would just write it out as dialogue for the animator and ultimately our sound designer."
Regarding the noises you hear Splat make in the final film, Nguyen added, "There is no voice actor for Splat. There's no one in the [recording] booth at all. It really is one created through a sound design. And so to let them know what these intentions were going to be, it was the magic between animation and sound to really create this character. The only cheat I gave them was basically this very rudimentary dialogue that was written parenthetical. It wasn't that deep. it was like, 'Get away from me. You're scary. I hate you!'"
The post The Mandate for Disney's 'Strange World' Was to Truly Make it Weird appeared first on Fandom.